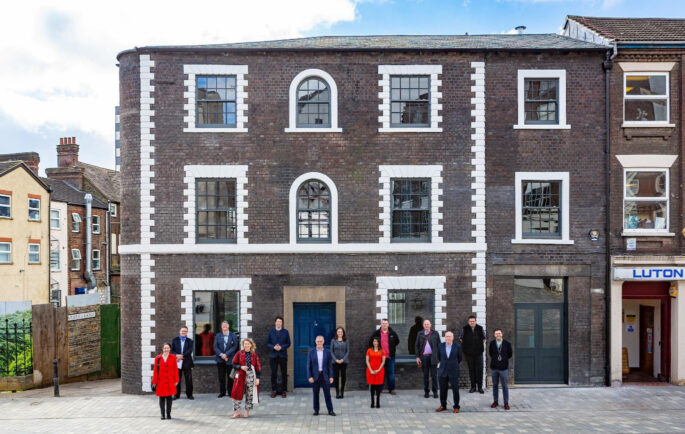 HatWorks Completion and Handover Ceremony
Richard Henson was overjoyed to attend the HatWorks Completion and Handover Ceremony in Luton, the second of two historic hat factory renovations undertaken by the Fleet Architects team with our friends at YOU&ME.
(more images to come)
Culture Trust Press Release  Text Follows: 
PRESS RELEASE
 23rd April 2021
Celebrating the completion of Hat Works Creative Workspace capital project of a Grade II listed building 
The Culture Trust, Luton are delighted to announce that a complex programme of careful heritage restoration and refurbishment of the oldest former Hat Factory in Luton is now complete.  After four years and with the investment of £2.4m the keys were handed over to the Trust's Chair, Nick Gibson, by Simon Last of Neville Special Projects on Friday 16th April.  
Hat Works is part of the Hat District heritage regeneration project led by The Culture Trust to reanimate and reuse historic hat factories and transform them into inspiring and much needed creative workspace. Hat Works follows the completion of Hat House and the refurbishment of the Hat Factory Arts Centre led by the Trust in 2019.
Hat Works key handover ceremony, creative workspace on the top floor, and Members' Lounge
Hat Works is situated in the heart of the Hat District creative cluster in central Luton between the railway station and Mall shopping centre.  The Hat District is a growing dynamic creative community housed within (and at times bursting out of) the Hat Factory Arts Centre, Storefront Gallery, Hat Works and creative workspace at Hat House.
Hat Works will be the entry point for creative entrepreneurs eager to turn their idea into a creative business within a supportive and inspirational environment with like-minded others. Hat Works will provide a range of workspaces that will support the development of a creative community. Here members can develop ideas, collaborate and benefit from affordable and professional workspace.  Whilst everyone is welcome, there will be a particular focus on young people and a cohort of pioneer members who are already in place to move in when the interior fit out is complete early this summer.
"The ambition is to re-animate the conservation area with cultural activity, care for these important heritage buildings and promote the historic stories of this once vibrant hat trading town. Hat Works is being designed for creative and digital entrepreneurs, innovators and micro-businesses and will provide affordable work and social spaces in an inspiring heritage environment."
Marie Kirbyshaw, Chief Executive of The Culture Trust, said:
"This well-loved old hat factory has been through a long but careful restoration and looks incredible thanks to the generosity of our funders and the skills of a highly specialist team.  We have curated an eclectic mix of decorative and functional design features, restored heritage and added modern functionality so that Hat Works will inspire, and meet the needs of, a new generation of creative and digital start-up businesses."
Hat Works capital project team in front of the completed Hat Works (April 2021)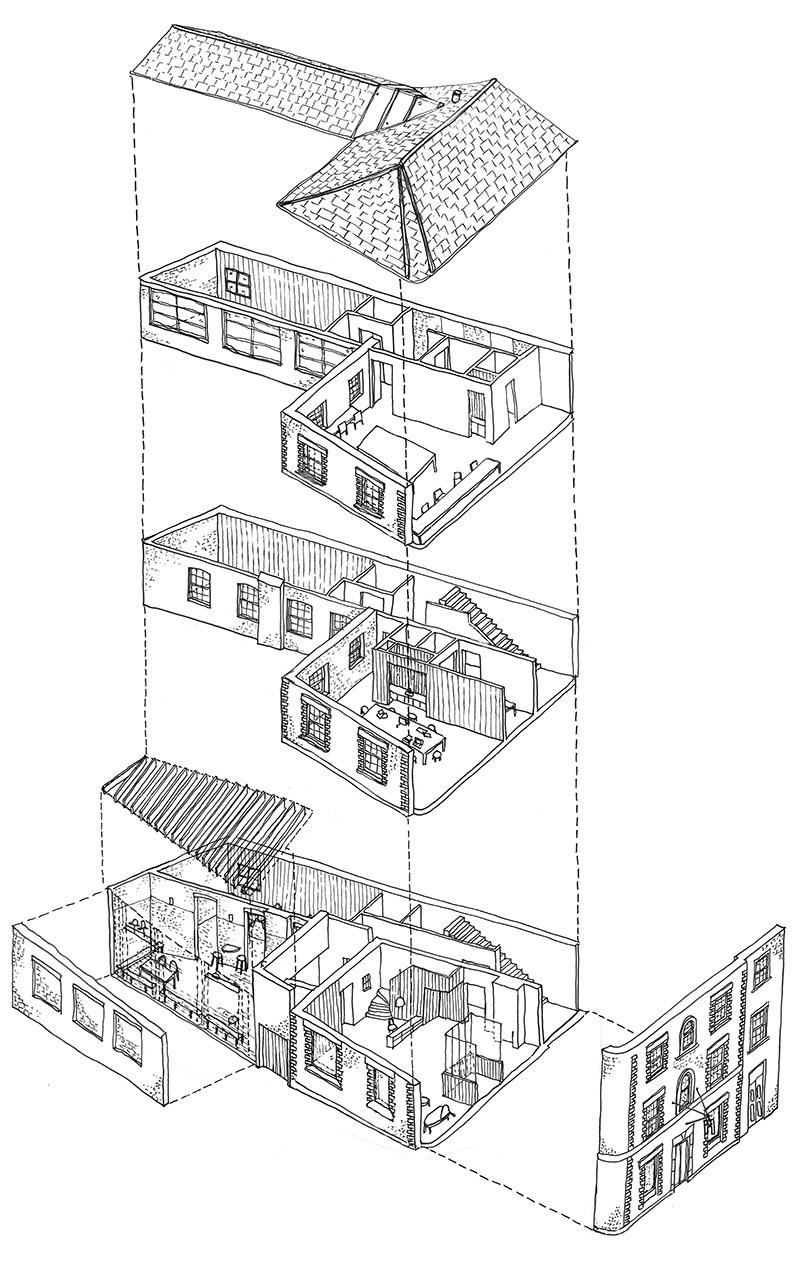 Hat Works capital works started in 2017 and the Trust has gratefully received funding to help deliver the much needed care and conservation work. Hat Works has been empty and unused since it closed last as a Hat Factory in 2006. Consequently, it has needed a great deal of careful conservation over the last four years, which included nearly a year of 'drying out' after the removal of a Himalayan mould. Local company Neville Special Projects has once more undertaken exemplary work in conserving and developing our Hat Factories under the thoughtful design direction of Fleet Architects, You & Me and with the guidance of Historic England and Luton Borough Council planning department.
The Trust is owner and custodian of this important heritage asset and wishes to thank the many project funders that have contributed to this project. The South East Midlands Local Enterprise Partnership (SEMLEP) has provided £3.96m funding to the Hat District creative cluster as part of the Local Growth Fund. Historic England has supported Hat Works with guidance, advice and grant funding throughout and The National Lottery Heritage Fund provided over a million pounds to undertake essential repairs and conservation work, refurbish the building and preserve the original heritage and factory features.
The Trust has also received support from the Architectural Heritage Fund, to help protect the historic qualities of this prominent building set in the heart of the Plaiters Lea Conservation Area, and also from The Linbury Trust and The Pilgrim Trust.
"All funders have been incredibly supportive in enabling us to complete this project during COVID-19, our particular thanks goes to Historic England and the National Lottery Heritage Fund for providing COVID-19 additional funding."
Anne Jenkins Director, England, Midlands & East for The National Lottery Heritage Fund said:
"Investing in heritage means investing in the local community it belongs to which is why we are proud to have supported The Culture Trust to restore and repurpose the Hat Works with a grant of £1,052,000.  Thanks to money raised by National Lottery players, this important heritage has been given a fresh lease of life and will now play a key role in regeneration of the local economy and be enjoyed by locals and visitors to Luton alike. " 
Judith Barker, SEMLEP Director of Programmes and Governance, added:
"This restoration and refurbishment provides an exciting opportunity for creative entrepreneurs, offering a dedicated space for collaboration turning innovative ideas into creative businesses.  We're pleased to have supported this project, keeping Luton's hat production history, while inspiring creativity in the heart of the town. We're looking forward to Hat Works officially open its doors in the near future." 
Tony Calladine, Regional Director (East of England) for Historic England said:
"We have supported the Hat Works project from the outset, offering guidance and grant funding to enable the restoration of this important historic building. Working in partnership with key agencies, we've collaborated to support and fund this innovative project. We're delighted to see the Hat Works project come to fruition and look forward to seeing it flourish as an inspirational home for creative enterprise."
Hat Works' history:
Hat Works is a 3 storey property, with a distinct façade of Luton grey bricks, stucco dressings and a Welsh slate roof. It is located at 47 Guildford Street, in the Plaiters Lea Conservation area of Luton. The factory was built between 1840 and 1850 with alterations and extensions made in the mid twentieth century. Surviving deeds show it was originally a domestic dwelling with an office.  The building was occupied by Straw Plait Merchants Messrs Henry Durler (1850-1924) and Otto Suter (1851-1884). Straw hat manufacturing company Herbert Brown Ltd. used the building from 1906 and a Walter E. Brown, Director of Herbert Brown, signed a lease agreement with the Williams family in 1926. From 1931 the property was owned by Martha Swain, who leased the property to various hat manufacturers over the next 25 years including C H Young and Co. and Bridgewater Millinery from 1966, Maurice Davis ran his hat factory here until 2006. The building has been empty since then and is now undergoing restoration as part of The Culture Trust's Hat District Project.
For enquiries about workspace in the Hat District or Hat Works membership and use, please contact guy.smith@culturetrust.com.
NOTES TO EDITORS:
PRESS ENQUIRIES: For further information about this press release, please email
Emily.Finney@lutonculture.com, Marketing & Communications, or call 01582 878123. Interviews with the Hat District project director and Trust Chief Executive Marie Kirbyshaw can be arranged, as can a COVID-19 secure tour of the Hat District.
Go to www.hatdistrict.co.uk  for our latest news and full story. Follow the Hat District on social media:
Facebook: @TheHatDistrict
Twitter: @TheHatDistrict
Instagram: @thehatdistrict
Luton:
Statistics taken from The Luton Investment Framework (2017)
22 minutes by train from London
23 million people within a 2 hour reach
10 miles from the M25
Ranked as one of the 5 most affordable towns for commuting to London.
London Luton Airport UK's 5th busiest & fastest growing airport
Catchment with 4th highest level of retail spend in the UK
Rich culture and heritage. 122 languages, Award winning museums and parks
More than £1.5 billion private investment
Enterprise Zone status

About The Culture Trust Luton:
Established in 2008, the Culture Trust, Luton is a vibrant and progressive independent charity and our mission is 'to connect communities through culture'. We do this through our accredited museums, theatres, galleries, creative workspaces and Arts Centre in Luton. Pre-Covid we attracted over 285,000 visits per annum. We animate six sites: The Hat Factory Arts Centre, Luton Library Theatre, Hat House creative workspace, Storefront Gallery, Wardown House Museum & Gallery and Stockwood Gardens & Museum. We present multi-cultural and year-round programme of events, exhibitions, workshops and performances. We support creative talent and skills by providing opportunities, platforms and cultural career progression for young people. We care for a collection of over 2 million artefacts, 1.5 million photographs and maps and hold the most extensive and complete hat and headwear collection in the UK. We co-produce activity with our community, Museum Makers volunteers and team of cultural experts.
The Trust is funded through an annual donation from London Luton Airport and as a National Portfolio, the Trust also receives regular funding from Arts Council England. The Trust also has a special partnership with Luton Borough Council which includes caring for and sharing the town's Museums, collections and heritage venues.
The Hat District regeneration project: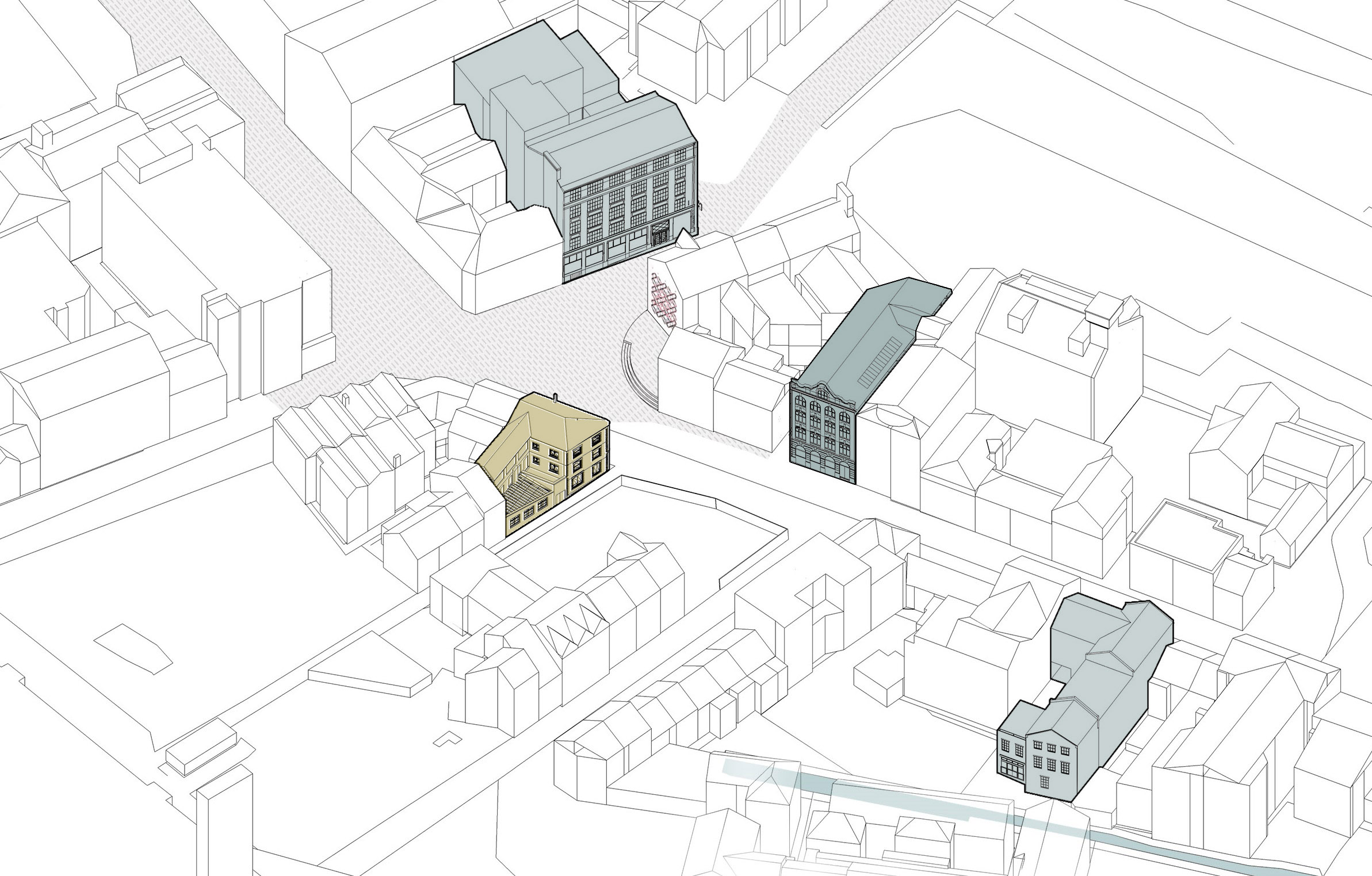 Image – Graphic of the Hat District showing the proximity of the 3 hat factories to each other and the station.
Purpose-designed creative work, show and share spaces in the cultural heart of Luton led by The Culture Trust.
Following successful funding bids, the Hat District project was started in the Summer of 2017. The Culture Trust secured £7 million of investment towards developing a collection of inspiring creative work, study and show spaces called The Hat District across 3 former hat factories in Luton's conservation area.  The collection of imposing buildings will provide new workspace for the creative industries, enable additional jobs, further inject life into a vibrant cultural district and attract thousands of new visitors to the area. Furthermore, this ambitious project will protect and refurbish historic buildings for future generations.
The Hat district is considered to be the best located creative cluster in the UK, given its proximity to the mainline station (2mins) and Luton Airport (10 mins).
The Trust is wellplaced to inject new life and vibrancy into this run-down area and protect the heritage of these old hat factories that are currently falling into disrepair. Two of these sites, Hat Works and Hat House, were vacant historic hat factories that will be brought back into new use. The Hat Factory Arts Centre has been refurbished to increase and widen access to the arts.  The buildings are centrally located in Luton between the station and the town centre.  Given the conservation area, consideration is being given to the design and care for the existing properties.
The quality of arts, architecture, design, heritage and conservation will aim to exceed public and user expectations and set new standards for urban regeneration in the town.
Thanks to the following funders of Hat Works:
About The National Lottery Heritage Fund
Using money raised by the National Lottery, we Inspire, lead and resource the UK's heritage to create positive and lasting change for people and communities, now and in the future. www.heritagefund.org.ukhttps://www.heritagefund.org.uk/.
Follow @HeritageFundUK on Twitter, Facebook and Instagram and use
#NationalLotteryHeritageFund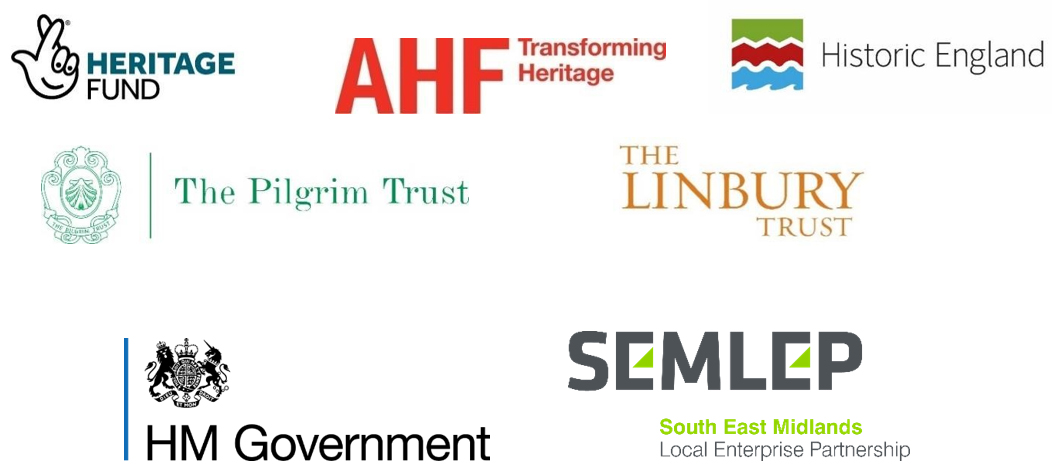 Hat District Photography:
We have a Hat District documentary photographer, Shaun Armstrong (Mubsta.com), and will happily share any high quality images should they be required for publication.
Neville Special Projects:
We would like to express our thanks to Luton-based Neville Construction Group for their ongoing support in the Hat District project.
Hat Works is the second building in the Hat District Project by The Culture Trust, Luton. It has been conceived and developed by The Culture Trust and was made possible with investment from:
The South East Midlands Local Enterprise Partnership (SEMLEP)| Local Growth Fund | £3.961m
This major funding has enabled us to make significant progress in developing new creative workspace which will provide more jobs and new spaces for business.  The Creative and Cultural sector is a focus for SEMLEP and is promoted through their 'Strategic Economic Plan' and 'Heritage, Sports, Visitor Economy, Cultural & Creative Industry Plan'.
By 2021 the government will have invested over £12bn through the Local Growth Fund, allowing the LEPs to use their local knowledge to allocate appropriately.
Additional key facts:
–              There are 38 LEPs covering the whole of England.
–              The government has awarded £9.1bn in three rounds of Growth Deals to local areas to drive economic growth.
–              LEPs are investing in a wider range of projects including transport, skills, business support, broadband, innovation and flood defences.
With thanks for regular funding and support from Luton Borough Council, London Luton Airport Ltd. and Arts Council England:
FINISH