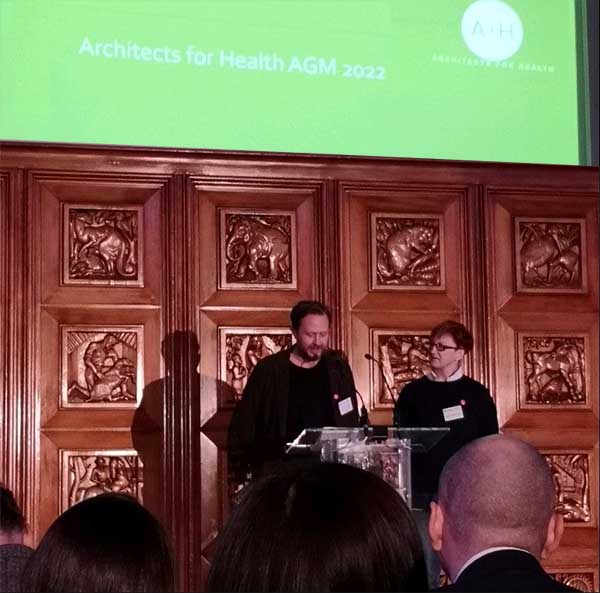 Jaime Bishop Elected Co-Chair of Architects for Health with Stephanie Williamson
Architects for Health  posted:
"Yesterday's  Architects for Health  AGM was a wonderful celebration of the work we all do within the sector, but particularly of the huge contribution outgoing Chair, Christopher Shaw, has made to the organisation. Thank you from all of us for your herculean efforts over many years!
Congratulations too to incoming Co-Chairs, Jaime Bishop and Stephanie J Williamson, and to our new Executive Committee Members, Ruairi Reeves and Evangelia Chrysikou PhD, and to Caroline Mulholland who is re-appointed.
We're looking forward to a wonderful 2022!"
Stephanie and Jaime have been elected on a 5 year term and are the first co-chairing partnership for the organisation following a constitutional change also agreed my members this year:
Jaime Bishop, Fleet Architects – Election Statement:
Stephanie and I are a complementary pairing, with AfH experience and a shared passion for healthcare design and its impact on all building users.
I am a director of Fleet, a practice focussed on social value. Previous roles include MAAP, SBA and Coda, amassing over 20 years of healthcare experience since studying at Bath and the RCA.
I have been involved with NHS boards; a Governor at HUHFT and NED at City and Hackney CCG, chairing Primary Care and PPI.
Fleet are based in London but our work is national, when combined with Stephanies' Yorkshire base will buttress the advances AfH has made in engaging with welcomed geographical reach.
When first involved in AfH I was challenged by the chair, Ann Noble, to improve the appeal of healthcare design to young architects. This resulted in the founding of the Student Awards. This is still an important role of AfH alongside greater collaboration and engagement with our clinical counterparts and policy leaders. Stephanie is the ideal partner to pursue these goals.
Having dedicated my professional career to design in healthcare and, if successful, we will continue to campaign and advocate for the value of good design in this incredibly vital sector.
Stephanie Williamson, GSTT – Election Statement:
I submit my nomination for the role of Chair of Architects for Health jointly with Jaime Bishop. We are a strong pairing, both with experience of the Exec Committee and with a shared passion for healthcare design and its impact on building users. I have 20 years experience as a client. My most recent posts include:
Exec Director of Built Environment at Great Ormond Street
Director of Design & Development at Guy's and St Thomas'.
Our combined experience gives us a broad perspective and useful insight on healthcare design and development.
So what will I do:
grow the organisation and more ably address the geographical divide in activities and events.
Continue to support the European Design Congress.
Refresh the Student Awards encouraging clients and members to participate.
Continue to promote passion and expertise in the hospital environment and arts through awards and filed trips.
Continue to improve the networking opportunities making them creative and enjoyable events.
Grow our connections with similar organisations overseas.
Finally I have years of experience chairing meetings and working with execs and volunteers running organisations.