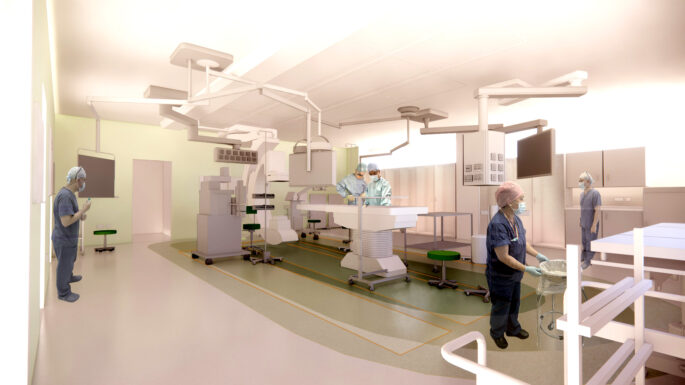 Lister Hybrid Theatre Gets the Go Ahead!
Fleet have been working with the Health Spaces team (https://health-spaces.com/) to develop the design for a Hybrid Vascular theatre  which received confirmation of funding this week.
Two weeks previously Jaime Bishop presented the scheme to the Trust board alongside the Surgery Team, including surgeons Prof Sadasivam-Selvakumar and Mr Matthew Metcalfe and  Theatre Sister Kay Wandless.
The new building extends the surgery floor on a raised platform oversailing the service yard and integrates equipment from Philips (C-Arm), Medical Air Technology (UCV) and pendants and theatre controls by Bender.
The scheme integrates the Philips ceiling mounted C-Arm with 3 UCV plenums slotted between the rails.
The Lister Hybrid Theatre is one of several projects on which Fleet Architects are collaborating with Health Spaces – more can be found about these projects here https://health-spaces.com/