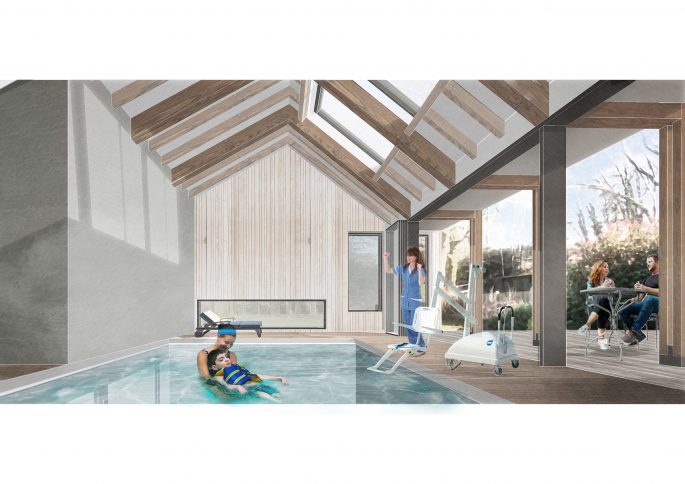 Planning Permission Granted – Therapy Pool
Planning Permission Granted – Designing for a Client with Cerebral Palsy
Fleet have recently received planning permission to redesign and over double the internal area of a family home in North Kent including improvements to the circulation, rooms sizes, flows, and the inclusion of therapy spaces to support the care and development of a young boy, one of a pair of identical twins, born with a diagnosis of  quadriplegic cerebral palsy.
His condition will require ongoing medical and therapeutic intervention and the refurbished and extended house will be adapted to meet these needs. The condition means he has abnormal muscle tone and strength, as well as sensory impairments.  At present he is completely dependent on his family and equipment in order to move, develop and participate in play.
He will benefit greatly from therapy, which is carried out for 3-5 hours a day by his family in the relatively confined spaces of the family home. These encompass Physiotherapy, Occupational Therapy, Speech and Language Therapy as well as other Motor and Sensory Therapies.  He requires this very high level of input to maximise his developmental potential and this is vital both in the early years and on an ongoing basis.
Care and development models for cerebral palsy emphasise that early intervention can make a significant difference to development and quality of life.
Therapy must be delivered in an area with adequate room for equipment, a challenge in a conventional detached family home.  Care also requires a quiet, discrete area to promote concentration, with acoustics and natural lighting to compliment this.  Care of a child with cerebral palsy requires many pieces of medical equipment, which will be used daily. These include specialised seating, a standing frame, walker, chairs, therapy benches and sensory equipment.  At present he has the smallest size of each, but these will need to be replaced with much larger sizes as he grows and the storage is designed (maximised) to allow for this.  The ongoing care requires space for a plinth and mobile hoist for transfers as well as enough space on the floor for mat work.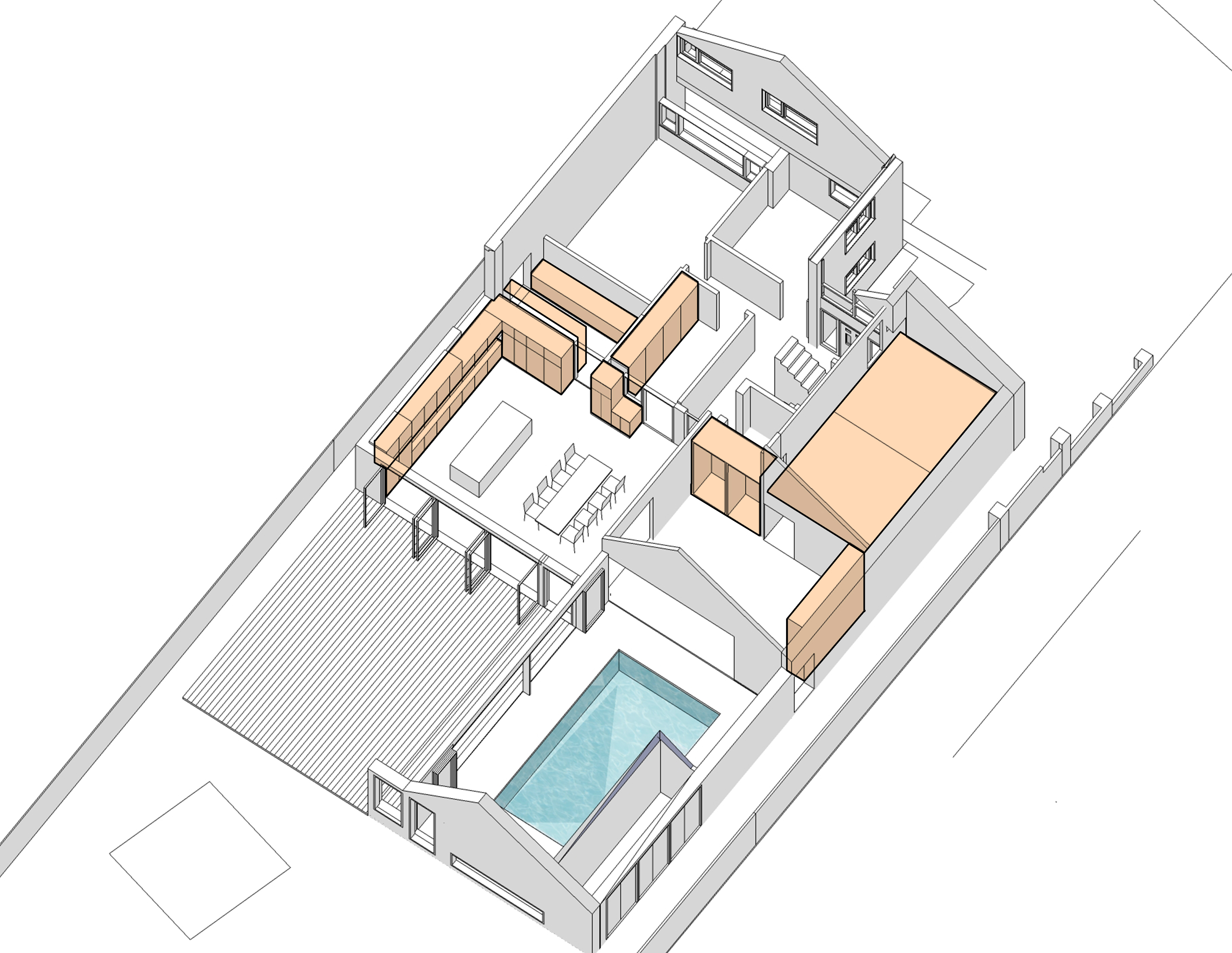 The most significant addition to the home is a therapy pool.  Hydrotherapy allows freedom to move and play in the water.  Hydrotherapy pools are available to book through NHS services but access is limited and varies by location.  Having access to a pool at home will allow the cardiovascular exercise that is required to keep healthy. Children with cerebral palsy often lack the opportunity to keep cardiovascularly fit and this places them at much greater risk of chest infections including pneumonia. With the effects of gravity altered by utilising the properties of warm water, a child with Cerebral Palsy can stretch through their trunk and limbs, with the benefits reducing the risk for surgical musculoskeletal intervention at a later date.
Critically hydrotherapy is an activity that is enjoyed by the whole family and has benefits both physically and psychologically for everyone.  The time and degree of care demanded is significant and the freedom to relax and enjoy the shared time in the pool is universally beneficial. Community pools are often not warm enough for these vulnerable children to use for the time required to carry out the therapy programme. Due to his limited movement, he requires specialised changing facilities for his temperature control and comfort which are allowed for in our design.
Our client is currently at a weight where he can be carried by his parents, he will require a hoist for transfers in the future. It will not be possible for him to sleep upstairs without inserting a platform lift, both expensive and space consuming. Our plans include a bedroom, wet room and therapy room at ground floor interconnected and accessed by a ceiling hoist. To allow for the hoist, the ceiling height is considered and has governed some fundamental decisions and arrangements.
This extension and the facilities within, we hope, will give our client the opportunity to participate in activities, keep fit and healthy, and develop to his greatest potential and it is an extremely rewarding project to work on.
This article has been prepared using information supplied by  Emma Cave, a professional therapist currently engaged in the care of our Client.