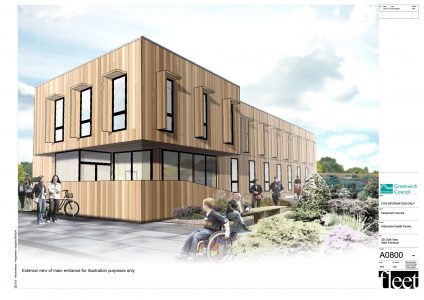 Fast Track Timber Health Centre
Client: Healthports Ltd with Royal London Borough of Greenwich
Location: Kidbrooke
Area: 900sqm
Value: £2 million
Procurement: Bespoke Process
Fleet Architects have developed a fast-track health centre system using sustainable materials which can match the lead-in times for compartitve fast-track products, such as Portakabin, while providing a healthcare environment comparable (or improving on) standards required of traditionally constructed and procured facilities.
The system, which uses Austrian Cross Laminated Timber panels, creates a thermally extremely high performing envelope with opportunites to easily create light and welcoming therapeutic spaces.
The example shown here was prepared for the London Borough of Greenwich as a comparison to a Portakabin verison under consideration.