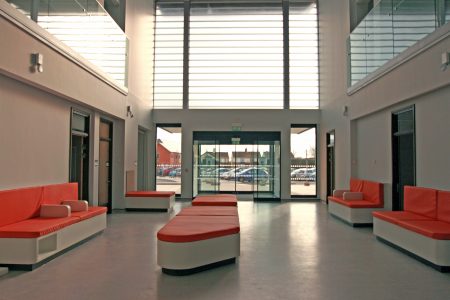 St Michael's Reprovision
Client: Grosvenor House Group (with Steffian Bradley Architects)
Location: Braintree, Essex
Area: 5,000 sqm
Value: £14 million
Procurement: NHS PFI
In December 2007, Grosvenor House Group approached Steffian Bradley Architects to revive their previous successful PFI bid for a new community hospital in Braintree, Essex (2004), which had been shelved due to funding issues. As the leader of the Primary and Community Care Studio at SBA, Jaime Bishop (now of Fleet Architects), was responsible for a wholesale redesign of the internal layout to incorporate required changes in the PCT's model of care. This was achieved through an intense schedule of user meetings during the first 2 months of 2008 where the GHG team generated the schedule of accommodation and contractor's proposals to be shared with the client and reflected back in their tenants' requirements.
Consequently, the redesign was realized over a four month period, including renegotiation with the planners, 3500sqm of consulting, therapies and ward space and the inclusion of a new 1500sqm surgical suite with 2 theatres.
The project reached financial close in May 2008 and was completed in 2010.