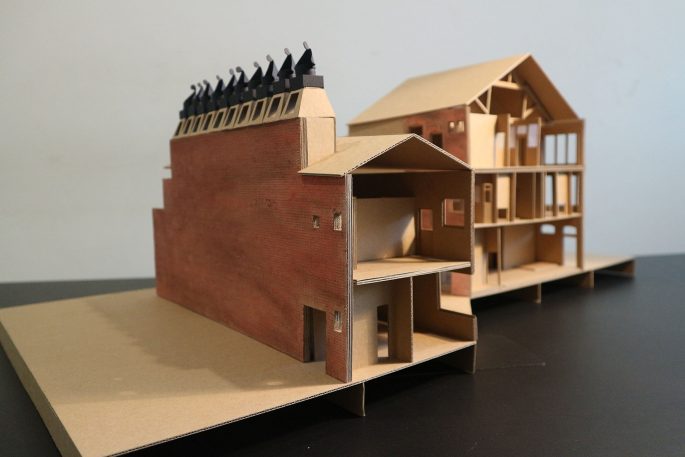 NHLF Visit to Peterson's Smokehouse
As part of the gateway review of the NHLF and AHF funded Peterson's Smokehouse project The Vicky Hartung of the Great Grimsby Ice House Trust hosted a visit and walk around the currently derelict Grade II listed smoke house in the historic Kasbah area of Great Grimsby Docks.

Both the Smokehouse and building 89 Wharncliffe Road, also part of the project, have been cleared of the considerable pigeon guano which had accumulated over the years and the narrow spaces addressing the smoke houses are now more apparent and  more of a sense of how they once functioned in the bustling fishing port.
Thankfully six of the historic cowls, which rotate to address the wind, have been found in the building, allowing for accurate replacements to be manufactured for the remaining 4 chimneys.
The next stage of the works will involve a range of opening up surveys to ascertain the condition of the timbers and then, finally a chance to get into the smokehouses.
The proposals Fleet have prepared with the team, including BB Heritage Studio, YOU&ME, Appleyard and Trew and SWECO will allow the re-opening of Peterson's as a working Grimsby method fish smokery.   Building 89 will house a community café and act as the threshold for visits hosted at the Peterson's.
The NHLF team were also taken to meet Patrick Salmon of Alfred Enderby's, an existing working smokehouse with the Kasbah where samples of the famous produce were sampled.